Les Mills Combat Review- Video
Les Mills Combat Review I have used this program personally.
Les Mills Combat Review- Success Stories

Les Mills Combat Review- My Experience

I have Les Mill's Combat Ultimate Warrior Package which includes all 12 workouts:
LES MILLS COMBAT: THE BASICS. Master the techniques and movements you will use throughout all the LES MILLS COMBAT workouts.
LES MILLS COMBAT 30: KICK START. A low-complexity but high-intensity workout, introducing you to the basic LES MILLS COMBAT combination moves.
LES MILLS COMBAT 45: POWER KATA. This workout combines speed and power with cross-training for complete calorie scorching.
LES MILLS COMBAT 60: EXTREME CARDIO FIGHTER. Challenge your endurance with a high-repetition sequence of moves that will have your muscles firing on all cylinders.
LES MILLS COMBAT 60 LIVE: ULTIMATE WARRIOR'S WORKOUT. Upper body . . . legs and butt . . . core and cardio . . . this workout hits every muscle hard.
LES MILLS COMBAT: POWER HIIT 1. High Intensity Interval Training uses short bursts of maximum effort followed by recovery to push you into muscle-conditioning overload.
LES MILLS COMBAT: SHOCK PLYO HIIT 2. Uses propulsion exercises to improve athletic power and endurance, pushing you into peak performance mode.
CORE ATTACK. The very best integrated and isolated exercises to help give you the ultimate core strength while chiseling and shredding a serious six-pack.
INNER WARRIOR: STRETCH AND STRENGTH. Martial arts–based strength and flexibility training to enhance your balance, coordination, and strength.
WARRIOR WORKOUT 1: UPPER BODY BLOWOUT. Combines weighted moves with body resistance moves to help seriously sculpt and define your biceps, triceps, shoulders, core, and back.
WARRIOR WORKOUT 2: LOWER BODY LEAN OUT. Strengthen and lengthen your entire lower body—hips, thighs, buns, calves, and core—with this combination athletic/mixed martial arts training workout.
LES MILLS COMBAT 30: LIVE. A high-voltage COMBAT class that was shot live in the UK! It's designed to carve leaner arms, shoulders, and upper back, while delivering explosive leg training and high-intensity cardio to kick-start your metabolic burn.
LES MILLS COMBAT Training Gloves. Engage more muscles in your arms, so you can punch harder, strike with more force, and maximize your workout—building those strong and sexy lean muscles while incinerating calories. Size S is recommended for most women. Size M is recommended for most men.
STAY WITH THE FIGHT FITNESS GUIDE. Follow the 60-day calendar for extreme body transformation success. Includes training tips to maximize results.
EAT RIGHT FOR THE FIGHT NUTRITION GUIDE. A detailed eating plan that kicks off your body's ability to start burning through the fat, while keeping blood sugar constant and helping reduce your appetite.
TAPE MEASURE AND MEASUREMENT TRACKER. Track your progress and watch your warrior physique take shape through all 60 days of the program.
My Les Mill's Combat Review of this fitness program. I can't express how much I love the trainers and the Les Mills Combat workout program. They have some one in the video that modifies all the moves so you can even do this if your a beginner.  I have never enjoyed doing any other workout so much that it kept me wanting to press play to do my workout everyday.
Les Mills Combat Review- June 2013 Challenge Pack Sale
Les Mills Combat Challenge Pack is on sale from June 30th 2013.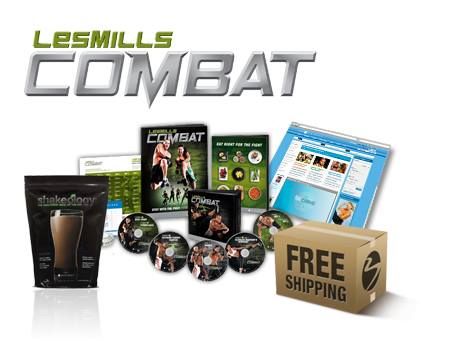 ==> LET ME COACH YOU FOR FREE! <==
Love reading my posts,but want more one on one attention? 
Have questions or concerns, but you want them answered in private?
Want a Daily Action Plan created to help you reach your FIT BODY in less time?
…YES?!
Then sign up to get my Beachbody Coaching for FREEEEE!