Fitness + Nutrition + Support = Success
This is a closed group of a select few that are truly SERIOUS about getting into the BEST shape of their life. Those that are selected for this group will have absolutely EVERYTHING they need to get them to their goals.
CAUTION!!! DONT BOTHER TO READ ANY FURTHER UNLESS YOU ARE 100% SERIOUS ABOUT REACHING YOUR HEALTH AND FITNESS GOALS. THIS IS NOT A GROUP FOR THOSE THAT WANT TO CASUALLY WORKOUT EVERY ONCE IN A WHILE AND EAT HEALTHY ON OCCASION!
So here's the deal:
I will accept a very limited number of clients each month to join in a small fitness challenge. I will assemble groups of 6 people ALL doing a workout program and using Shakeology.
If you are willing to invest in your health that tells me you are willing to do what it takes. I make a commission from your purchase and this supports the coaching, support, and encouragement I will offer during the challenge.
The challenge members that are accepted will receive my personal cell to text and reach out when needed.
I will run anywhere from 1-2 groups per month depending on the demand.
……I know a lot of people already clicked away as soon as they read they would have to invest. But you're still HERE which means something.
Here are the requirements in a nut shell:
MUST be my customer (this will happen when you choose and purchase your package solution)
MUST be on Shakeology HD throughout the entire challenge
MUST post daily with your progress (or even struggles)
If you need a fitness program you can choose from the packages below (each includes Shakeology HD and a 30-day trial in the Team Beachbody Club so you can automate your meal planner)
MUST have a clear and defined emotional reason for wanting this transformation. (we will work on this together)
Here is my commitment to you:
I will give the EXCLUSIVE members of my challenges priority
You will receive my cell phone number and permission to contact as necessary through text or setup a call
I will support, encourage, and coach you through to your results. In fact, if you slack I will SEE since this is such a small group and you can bet that I'll be calling if I don't hear from you!!
How you will benefit overall:
You will NO LONGER have an EXCUSE to skip workouts because you will have ACCOUNTABILITY
You will have the opportunity to completely TRANSFORM YOUR BODY and your HEALTH
You will be with a group of people ALL going through the same pain, success, and growth as you. You will NOT be alone. Even if your close friends and family poke fun at you, you will ALWAYS have the group to push you forward!
You will achieve a massive sense of ACCOMPLISHMENT and will feel unstoppable
You can finally feel good (or just feel better) as you get results and realize HAPPINESS WITHIN YOURSELF.
——————> Still Not Sure? Well answer me some of these questions:
1. Are you SERIOUS about getting healthy?
2. Do you have a pair of jeans you MUST fit into?
3. Are you ready to look in the mirror and feel GREAT about what you see?
4. Do need more energy?
5. Do you want to add years onto your life ?
6. Is it important for you to set a good example for your children?
7. Need to have a more positive attitude for life?
8. Are you aching to build new friendships with others going through the same things?
9. Are you ready to have more confidence…even in just your bikini!?
10. Are you serious about getting your life on track and starting a new healthy lifestyle?
So Are You SERIOUS??!!
Let me break it down for you…..
Fitness + Nutrition + Support = Success
Step 1)Sign Up For My FREE Coaching

Step 2) Choose Your Challenge Pack: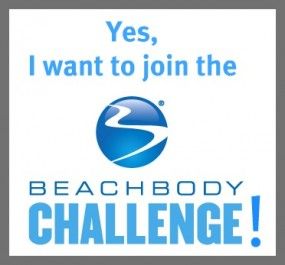 Step 3) After You've Ordered Your Challenge Pack-
Join The Group
Once you order the Challenge Pack you will be added to my SELECT GROUP and we'll starting getting you prepared for you challenge start date when your package arrives!
Already have your preferred workout Program?……. if you don't want a new program because you already have one then just get on Shakeology Home Direct and you will still qualify for the FITNESS challenge 
 …try it 30 days risk free. You can return it, no questions asked, for your money back!