Epilepsy Awareness Month
Epilepsy Awareness month is in November.
What is Epilepsy?
Epilepsy is a neurological condition that from time to time produces brief disturbances in the normal electrical functions of the brain. Normal brain function is made possible by millions of tiny electrical charges passing between nerve cells in the brain and to all parts of the body. When someone has epilepsy, this normal pattern may be interrupted by intermittent bursts of electrical energy that are much more intense than usual. They may affect a person's consciousness, bodily movements or sensations for a short time.
These physical charges are called epileptic seizures. That is why epilepsy is sometimes called a seizure disorder. The unusual bursts of energy may occur in just one area of the brain (partial seizures), or may affect nerve cells throughout the brain (generalized seizures). Normal brain function cannot return until the electrical bursts subside. Conditions in the brain that produce these episodes may have been present since birth, or they may develop later in life due to injury, infections, structural abnormalities in the brain, exposure to toxic agents, or for reasons that are still not well understood. Many illnesses or severe injuries can affect the brain enough to produce a single seizure. When seizures continue to occur for unknown reasons or because of an underlying problem that cannot be corrected, the condition is known as epilepsy. Epilepsy affects people of all ages, all nations and all races. Epilepsy can also occur in animals, including dogs, cats, rabbits and mice.
What causes epilepsy?
In about seven out of 10 people with epilepsy, no cause can be found. Among the rest, the cause may be any one of a number of things that can make a difference in the way the brain works. For example, head injuries or lack of oxygen during birth may damage the delicate electrical system in the brain. Other causes include brain tumors, genetic conditions (such as tuberous sclerosis), lead poisoning, problems in development of the brain before birth, and infections like meningitis or encephalitis. Epilepsy is often thought of as a condition of childhood, but it can develop at any time of life. About 30 percent of the 200,000 new cases every year begin in childhood, particularly in early childhood and around the time of adolescence. Another period of relatively high incidence is in people over the age of 65.
How is epilepsy treated?
Epilepsy may be treated with drugs, surgery, a special diet, or an implanted device programmed to stimulate the vagus nerve (VNS therapy). Of these treatments, drug therapy is by far the most common, and is usually the first to be tried. A number of medications are currently used in the treatment of epilepsy. These medications control different types of seizures. People who have more than one type of seizure may have to take more than one kind of drug, although doctors try to control seizures with one drug if possible. A seizure-preventing drug (also known as an antiepileptic or anticonvulsant drug) won't work properly until it reaches a certain level in the body, and that level has to be maintained. It is important to follow the doctor's instructions very carefully as to when and how much medication should be taken. The goal is to keep the blood level high enough to prevent seizures, but not so high that it causes excessive sleepiness or other unpleasant side effects.
Epilepsy Awareness Month: First Aid
First aid for epilepsy is basically simple. The goal is to keep the person safe until the seizure stops naturally by itself. It is important for the public to know how to respond to all seizures, including the most noticeable kind—generalized tonic-clonic seizures, or convulsions.
When providing seizure first aid for generalized tonic-clonic seizures, these are the key things to remember:
Keep calm and reassure other people who may be nearby.
Don't hold the person down or try to stop his movements.
Time the seizure with your watch.
Clear the area around the person of anything hard or sharp.
Loosen ties or anything around the neck that may make breathing difficult.
Put something flat and soft, like a folded jacket, under the head.
Turn him or her gently onto one side. This will help keep the airway clear. Do not try to force the mouth open with any hard implement or with fingers. It is not true that a person having a seizure can swallow his tongue. Efforts to hold the tongue down can cause injury.
Don't attempt artificial respiration except in the unlikely event that a person does not start breathing again after the seizure has stopped.
Stay with the person until the seizure ends naturally.
Be friendly and reassuring as consciousness returns.
Offer to call a taxi, friend or relative to help the person get home if he seems confused or unable to get home by himself.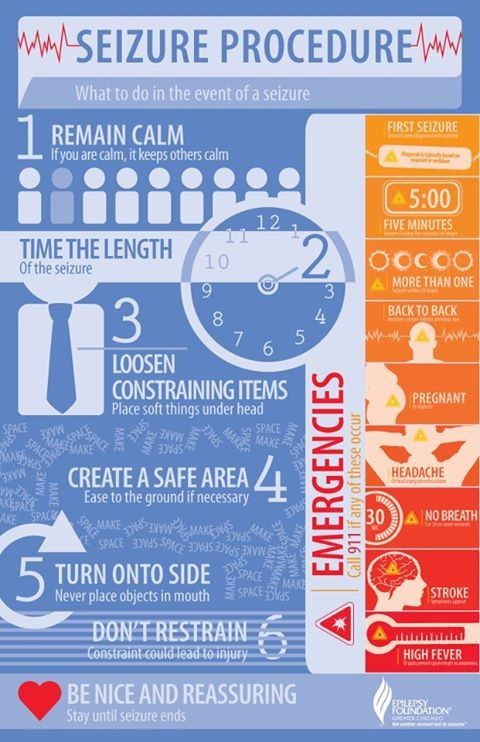 It's Epilepsy Awareness Month!  Now  that you know what to do when you are out somewhere and you see someone have one you will know what to do. I feel its  important to educate people about this because you can get Epilepsy at any age. I have had Epilepsy since birth.  It can be hard some days. It changes your life once you have it. You have limits on certain things that you can't do because of the fact it could trigger a seizure. Please take some time and raise awareness for Epilepsy.  There is NO CURE for Epilepsy once you have it!
==> LET ME COACH YOU FOR FREE! <==
Love reading my posts,but want more one on one attention? 
Have questions or concerns, but you want them answered in private?
Want a Daily Action Plan created to help you reach your FIT BODY in less time?
…YES?!
Then sign up to get my Beachbody Coaching for FREEEEE!